Document Archiving Software
Picture the scene….you need to find and print out a vital document, and you can't remember the name of it. Worse still, your colleague is on holiday and you don't know where a file has been saved, and your customer is on the phone waiting for an answer.
At EBM we know how frustrating, time-consuming and counter-productive that is.
We have teamed up with Power Retrieve & OliTouch by Olivetti so you can find these documents easily.
What is Power Retrieve?
Power Retrieve provides instant access to all your documents. It will search through your files in seconds, retrieving vital information from deep within its contents – overcoming search queries or OCR errors.
Power Retrieve will maximise the value of your information with "Point and Click" technology, providing rapid return on investment, improving productivity and reducing paper filing and storage space.
Top Features
Automatic indexing of scanned images and electronic office files
Indexing in excess of 6000 A4 pages per minute.
Pattern Search technology overcoming OCR errors and inaccurate search queries.
Concept Searching – Search for 'Exhibition' and automatically find 'Show'.
Search hundreds of thousands of documents in seconds.
Automatic ranking of Hit List; Users are presented with an 'intelligent' hit list where documents, and pages within documents, are ranked according to their perceived relevance to the search clue. Hit words are colour coded to draw the user's eye to pertinent information.
What is OliTouch?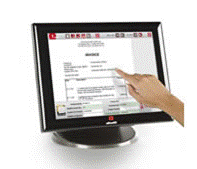 OliTouch is a new Document Archiving system from Olivetti. The OliTouch is based on an EPOS system which provides the end user with a touch screen PC to store and retrieve their documents with. The massive advance with OliTouch is all systems have the option to either, store documents on the PC itself or on hosted servers now commonly know as the 'Cloud'.
When using the OliTouch with the Cloud option, all documents achieved are stored offsite on backed-up servers, this means if your premises were to suffer any accidental damage for example, a flood or fire. You would be safe in the knowledge that your documents would only be a few clicks away, ready for your business to be resumed again.
Key Advantages
Easy to use Plug & Play Features.
PC's on the same LAN network can access files.
User Permissions can be allocated.
Option to Post document's straight from your OliTouch
Store in multi file formats e.g. PDF, TIFF, XLS, DOCX, PPT
Can be used with, a Network / USB Scanner or MFP device.
For further information please fill out the enquiry form to your right.