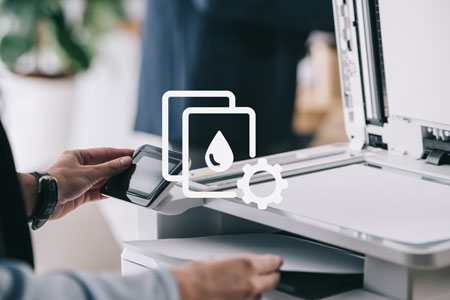 Essential as they are to business functions, printers and photocopiers are often overlooked. They sit in the corner of the office and do their job. Until they don't.
EBM Managed Services are here to help – we have friendly, fully-trained engineers ready to help when something goes wrong. But what can you do to keep breakdowns to a minimum?
Here are our top five tips:
Source the right printer 
Like cars, printers and photocopiers come in a wide range of brands and models. Why invest in a supercar car if you simply need to get from A to B? A print audit can help to understand your business requirements.
Only use the print software you need
In general, it's helpful to understand your printer's set-up. For example, knowing the IP address will help you connect your printer the network and to other devices. You'll also save time and money by only installing relevant print software for your business. Popular softwares relate to access, cloud printing, data security and monitoring print spend. They may not all apply to your business, but they cost time and energy to run.
Use branded ink and parts
Whilst they ultimately do the same job as generic, branded consumables maintain your device's warranty. They also tend to have a much higher yield, so you get more printed pages for your money.
Get the most out of your ink/toner
If your printer has one, use economy mode.
Set the device's default to monochrome. Black and white copies are cheaper and quicker to produce than colour. Under a managed print contract replacement ink/toner will be dispatched to you automatically, but don't replace it straightaway – wait for the print to fade.
Set the default to dual-sided printing. This will half the amount of paper you need.
Get a managed print contract
A managed print contract supplies ink/toner and consumables. It also allows for regular servicing and emergency engineers to keep your printers running at their best. When combined with a lease, your printer/photocopier will be upgraded at the start of each term.
Even when you look after your printer well, the worst can happen and your printer/photocopier may go offline. EBM Managed Services engineers have over 20 years combined experience in photocopier and printer repair.
Running printers with EBM Managed Services
Got a device that needs repair? Thinking about taking out a managed print contract? Get in touch! At EBM, we pride ourselves on our excellent customer service – but anyone can say that, so take a look at some of our 5* Google Reviews.
The team at EBM Managed Services is dedicated to providing a great service. Here are just some of the ways we stand out:
A friendly team. We're a family-run firm and all our staff are employed directly. Every member of staff represents a firm we care about and enjoy working at, so you'll find everyone friendly, honest and reliable.
The EBM Guarantee. When something goes wrong you need action, not promises. At EBM we commit to that. We guarantee to meet the call out time in your SLA – or your money back.
No high pressure sales. We don't believe in it. Our business is to help yours grow – a quick sale won't benefit anyone in the long-term. We consult with you to understand your business needs, and we offer you a range of solutions that are both cost-effective and have room to support business growth.
To find out more, get in touch on 01376 512 575, at info@ebmltd.co.uk or via the Live Chat service on our website, www.ebmltd.co.uk.