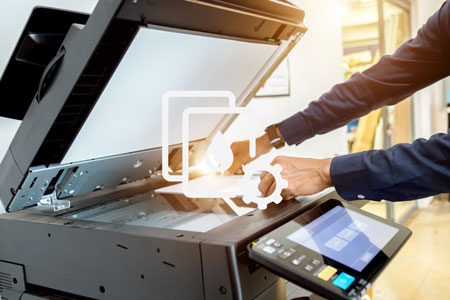 Every penny counts: Should you use Managed Print or Unsupported?
Did you know, more than 50% of UK SMEs don't know how much they're spending on printing?
Printers aren't exciting, but they can be expensive.
Businesses can choose to run their printers under a Managed Print agreement, or as unsupported devices that they look after themselves.
Unsupported.
A printer is just something your office has. You buy one, plug it in and get working. They're not exciting. They're not even that important. Until they breakdown… inevitably in the middle of printing crucial, time-critical documents.
At this point, you can either call an expensive by-the-hour engineer, spend your time fixing it yourself, or throw out the printer and buy a new one. Either way, your attention is required.
The same is true when it comes to sourcing replacement inks and toners. Do you wait for them to run down, and only buy more when you run out? Keep a stock on the shelf, taking up business expense and office space? Do you spend your time, or your staffs' time, shopping around for the best price inks?
That being said, you have complete control and autonomy over your printers – but, how much do you really pay attention? Do you track and control your print costs?
Managed Print.
Your printer is a business asset. It helps you cut waste, it helps keep your data secure, and – of course – it prints your documents.
When something goes wrong, you call your provider and they dispatch an engineer to get you back up and running again within a set timeframe and at no cost.
Your ink/toner usage is monitored, and new inks are dispatched to you when they begin to run low. This is an automatic and free-of-charge process.
With all this in mind, you are tied in to a contract with your supplier, and will be reliant on them to deal with any printer issues that arise.
Choosing EBM as a Managed Print Partner.
EBM work with a range of market-leading manufacturers to source the right machine for your business needs. All ink/toner is included in your contract, as are all parts, engineer visit and service calls.
Our service levels are exceptional, just check out our Google Reviews.
With our Green Print Programme, we can make your business printing carbon neutral.
The EBM Guarantee means that we will meet the call out time in your service level agreement, or your money back.