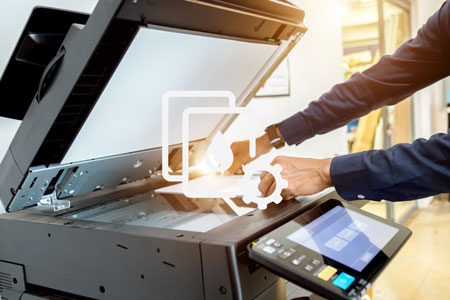 Printers and photocopiers are vital business assets. Managed print contracts make sure they are working at their best, and tends to work out more cost-effective than outright purchase and management of machines. But how do you go about choosing a supplier?
A managed print contract with EBM covers the supply of print hardware, software, consumables (ink/toner and parts), servicing and emergency call out engineers for a reasonable monthly fee.
But that's standard, really. A lot of our competitors will say the same. So what really makes EBM Managed Services stand out from the crowd?
A business that cares about your business


At EBM, we have long said that our business is to keep yours running. As well as providing all that you would expect from a managed service provider, we're constantly looking for ways to make our clients' lives easier – whether its reducing admin burden

Fantastic customer service

Yes, everyone says it, but we really mean it. A recent customer satisfaction survey we commissioned scored our engineers 9/10 for customer service. In addition, we currently average 4.8/5 on Google Reviews, with fantastic quotes like this:

"This company is absolutely brilliant. The customer service and communication is excellent.";
"First Class Service!  First Class Company!"; and
"The customer service of EBM Managed Services is brilliant."

Less downtime, guaranteed


When something goes wrong you need reliable action, fast to keep your business running. The EBM Guarantee means that we will meet the call out time in our clients' service level agreements, or their money back. The EBM Guarantee has been in place for more than 18 months and we have yet to refund a single customer.

Market-leading devices


At EBM, we partner with a range of manufacturers, meaning our customers have a choice of market-leading devices to select from. Working with businesses like Epson, Lexmark and UTAX means that we are at the forefront of a lot of industry innovation, whether it's relating to the quality of output, environmental impact or software developments.

A business that cares about our community


We're actively involved in our community and our team regularly take part in CSR fundraising activities. In 2019, we retroactively offset our 2018 carbon emissions and began looking at ways to help our clients reduce theirs. The resulting Green Print Programme allows are customers to run their business printing on a carbon neutral basis, and is free of charge for clients on our gold and platinum service level agreements.
Get in touch
Thinking about taking out a managed print contract? Get in touch! The team at EBM Managed Services is dedicated to providing a great service. To find out more, contact us on 01376 512575, at info@ebmltd.co.uk or via the LiveChat service on our website, www.ebmltd.co.uk.