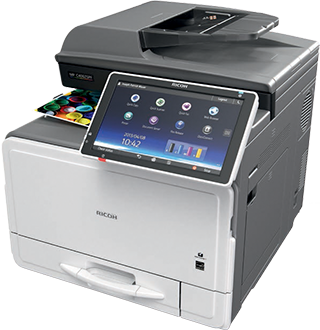 Inkjet or Laser?
When looking to purchase your next printer, it's important to understand which type best suits your needs. When choosing between an inkjet and laser printer, the difference is pretty straightforward. An inkjet printer operates by spraying quick-drying ink onto paper. Whereas the laser printer uses static electric energy to attract toner to the page. It then bonds it with heated rollers known as a fuser unit.
Inkjet printers have been more popular for home use thanks to their low price and compact size. Laser printers  remain a firm favourite with large-scale users, such as schools and offices. However, a next-generation range of business inkjet printers could result in this no longer being the norm.
Like any piece of equipment, different printers have different pros and cons depending on what your primary use will be.
Inkjet or Laser: Size
Of course, it's important to think about where your printer will go, and how much space it will take up. Inkjet printers are typically far more compact, making them suitable for smaller offices. Whereas laser printers are larger to easily process a higher volume. Traditionally, for businesses who print infrequently, an A4 inkjet printer is usually fine, whereas for more regular and intense print jobs, most businesses would opt for a laser printer.
Business inkjet models have improved greatly in recent years. Print cost has come down and functionality and speed have gone up. It's important not to rule them out, particularly if space is at a premium.
Inkjet or Laser: Cost
Another major consideration is how much your business is looking to spend on a printer. Often substantially cheaper in price, inkjet printers make for a tempting budgeting decision. In comparison, laser printer models may cost in excess of £500 to purchase outright.
Leasing is generally a far better option for many businesses. It helps to spread the cost of the device and may include managed print services as part of the agreement. Of course, the initial fee isn't the only factor when considering your printing budget. Whilst the higher purchase and toner cartridge cost may initially put buyers off, cartridges tend to last longer. This is not true for the new inkjet devices – the Epson WorkForce Pro, for example, is capable of printing up to 75,000 pages without changing an ink pack, making them comparatively economical as their laser counterparts.
Inkjet or Laser: Quality
Both can produce superb quality prints, with the difference between machines again coming down to their purpose. An inkjet may just have the edge when it comes to colour printing; boasting high definition, vivid colours and virtually no pixelation, photographs can be produced to a near professional standard.
Inkjet or Laser: Functionality
While an inkjet has traditionally been considered a more basic machine, business inkjet devices are now catching up with laser printers in terms of functionality. Users can opt to scan, print, fax or copy on either an inkjet or laser machine, making both perfect for most office environments.
Designed to regularly manage a large quantity of documents, laser printers have a variety of printing speed available and can print up to 60 pages per minute. This makes them capable of completing jobs quickly, significantly increasing office productivity.
Inkjet printers are capable of delivering striking picture quality despite their compact size, and with high-quality, faster-drying inks, inkjets are now more than capable of completing multiple jobs at impressive speeds.
The next generation of Epson business inkjet devices are now available here at EBM, and if you would like any further information regarding your printing needs don't hesitate to let us know!