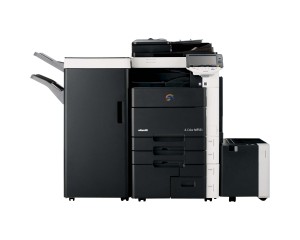 Latest-generation Olivetti colour multi-function devices for medium and large organisations looking for excellent performance.
MAIN CHARACTERISTICS
45 / 55 / 65 Prints per Minute
250 GB HDD for Document Storage
Paper Capacity up to 6,650 sheets
Paper Weights upto 300 g/m2
Scan to Email / Fold at speeds of 78 operations per minute
Fast warm up in just 45 seconds
The Olivetti d-Color MF 451, MF551 and MF651 are highly advanced modular multi-function systems. They feature state-of-the-art print functions for automatic processing of professional documents in colour and B/W; all three Olivetti systems offer high productivity and cost-effectiveness and are always available for print and copy jobs. The Olivetti high-speed scanner module (78 opm) optimises information distribution and sharing. Functions include scan-to- eMail, FTP, SMB and to user boxes, as well as the very latest scan-to-USB/mobile box function. In addition to Internet Fax and IP (intranet) capabilities, the models provide a full range of digital, analogue and colour fax functions and a variety of security options to ensure full confidentiality for fax transmissions.
PRINT CONTROLLER
The products print controller guarantees full compatibility with any operating system, supports PDF 1.7 and, with the latest PostScript enhancements, provides auto-trapping and black overprint. The introduction of a customisable tab makes use of the print controller even easier. With MyTab each user can set the options they need most frequently for selection from a single screen.
REPRODUCTION QUALITY
The polymerised toner composed of minute uniform particles ensures excellent printing quality, for B/W
and colour jobs alike. Printed documents offer sharp text and lines, bright, high-fidelity colours and long-term stability.
ADVANCED FUNCTIONS
The unique user box feature optimises the efficiency of information storage and management functions on the system hard disk. The system architecture also simplifies sharing of scanned, printed, copied or faxed documents. Up to 1,000 user boxes can be created with predefined access rights for public or private groups or individuals.
SECURITY
The Olivetti d-Color MF 451, MF551 and MF651 boast's advanced security functions. In addition to standard functions such as confidential printing based on passwords, the new systems incorporate special security solutions to guarantee data protection and confidentiality. Authorised users are authenticated with an ergonomic system for biometric recognition of finger vein patterns or, alternatively, IC-Card recognition (magnetic badge).