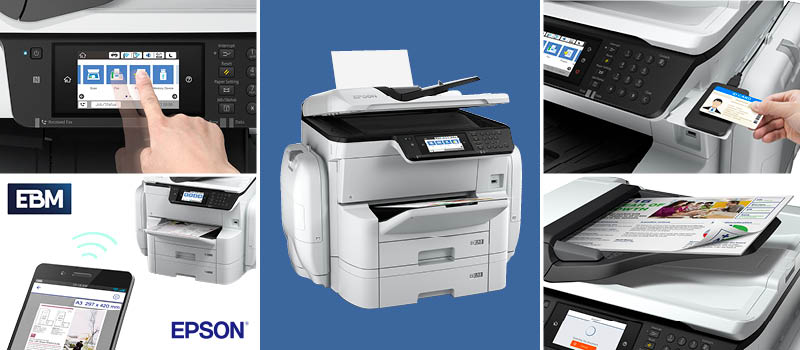 At EBM Managed Services, we pride ourselves not only on the range of printers, photocopiers, multifunction printers (MFP) and all-in-ones that we supply, but also the knowledge we have developed over years in the industry. It is this understanding that helps us to guarantee that the most relevant machines are assigned to each of the companies we work with and the industries that they serve. With that in mind, we are very impressed with the Epson WorkForce WFC 869 range and how it has helped the businesses we work for cost save and improve efficiency.
Why the Epson WorkForce WF C869?
Epson has a very green ethos
These particular machines have purposefully low running costs and low CO2 emissions which can save on electricity and help towards ISO Accreditation. Compared to competitor colour lasers it uses 98% less energy and, as a bonus, is 23% quieter than laser devices.
Plus, this machine has a super-high yield ink supply which can allow printing of up to 84,000 pages at 34 pages per minute without having to change the ink. This is brilliant as it cuts intervention time and there is less need for replacement inks.
Intuitive and simple operations
The Epson WorkForce has a range of software that enables managing devices remotely and provides a secure print, plus, supports printing from mobile devices which is ideal for printing A4 and A3 photos and documents straight off your phone to save time.
As well as a smartphone inspired user interface and touchscreen which is easy to follow and simple to use, this machine saves time and paper with automatic double-sided printing, scanning, copying and faxing.
EBM competitive and understandable pricing
This machine is a great investment for your office and our leasing contracts make maintaining, planning and managing your office printing easy.
From as little as £1.36 per day your business would benefit from the following:
The Epson WorkForce WF C869 installed by our experience Engineers
All servicing and support included
No need to keep 'just in case' supplies in stock as supplies are automatically ordered
No upfront investment
Per-per-use printing
Choice of flexible payment plans designed specifically for SMEs
A hassle free managed print service
To enquire further call our Head Office on 01376 512575 or fill out an enquiry form
You can also contact our Managed Service Consultants to arrange a FREE print audit which will enable our team to understand whether the Epson WorkForce is the right MFP for your business.