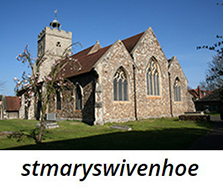 The Organisation
One of the hubs of the community, Wivenhoe St. Mary's is a Church of England church, offering a diverse range of services. The church and its Rector bring people together in times of great joy and great sadness, providing real support when its most needed.
The Situation
EBM had long been supporting the Church Secretary and her husband in their voluntary community work. When the existing photocopier in the church broke and began leaking toner, the Church Secretary recommended EBM come in to help.
The Solution
After talking through the needs of the church, EBM recommended a new Epson inkjet printer and provided all the information necessary for the Parochial Church Council to make their decision.
When the new, more user-friendly device was installed, EBM delivered a clear and concise training session. This boosted the confidence of each user at the church, who had avoided using their previous, leaky photocopier.
The Benefits
The printer at Wivenhoe St. Mary's is now running better, and is much more user-friendly. Using an ink-jet rather than laser in this environment has meant fewer jams and an improved copy quality.
Using a Managed Service solution also takes the load off members of the Church who have to deal with problems when they do arise.
EBM have also helped the church be more environmentally-friendly by taking away and disposing of their old machine and through providing a newer device, which runs on less power and produces less waste.
Further, the Church Secretary was provided with a £100 Love2Shop voucher as part of EBM's referral scheme. This was reinvested in the church to buy raffle prizes and help raise further funds.