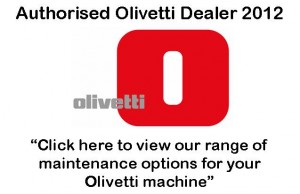 We are pleased to announce that EBM Managed Services are an official Olivetti Supplier. At EBM you can be sure of finding the very best solutions for your business. EBM Managed Services has chosen to partner with some of the worlds leading manufacturers including Olivetti, with a heritage of more than 100 years, that is steeped in design, style and traditional values of excellence.
Olivetti was established in 1908 and is still one of the worlds leading players in the Information Technology marketplace. Olivetti is the business and software service division of the Telecom Italia Group, which employs 84,144 people around the world and posted a result of 22.059 billion Euros in 2011.
Olivetti's Digital Business Solutions
Exceptional quality, reliability, and productivity – The range of Olivetti's digital office solutions combines performance with exceptional print quality and unsurpassed reliability. With excellent build-quality and long-life consumables, the products have been designed to need very little maintenance and reduce total cost of ownership for customers.
All products comply with the very latest EU environmental standards including RoHS and WEEE directives, and Clean Cash Systems in Scandinavia. Users can be sure that, by installing Olivetti's products, they are helping to protect our vulnerable planet.
Olivetti and the Environment
Olivetti's range of high speed colour MFP's, the d-Color MF451, d-Color MF551 and d-Color MF651 also utilise state-of-the-art Induction Fusing technology which delivers heat, both quickly and efficiently, during the fusing process. Customers who already enjoy the benefits of using induction hobs at home for their cooking will already understand just how quick and efficient this technology can be. In fact, these high speed MFPs are ready for action from cold in just 45 seconds, and can return ready to print from sleep in just 12 seconds!
Other ways in which Olivetti products reduce energy consumption
All Olivetti d—Color MFPs offer power saving modes to reduce the energy consumption in idle phases. These modes activate automatically depending on the time setting programmed by the customer's administrator. The MFP system will restart automatically from sleep mode when the user operates a key on the control panel or if a print job is incoming. Incoming faxes will not restart the machine but are stored in secured memory until the machine is restarted by another action, this maximises energy savings.
Low Power and Sleep Mode can also be controlled by a daily, weekly and date based timer. So, for regular business days, a start and end time can be set, while it could also be programmed to be completely shut down on Sundays. In Sleep Mode our fastest machine, the d—Color MF651 draws only 12W of power.
Typically, warm-up times have improved from around 8 minutes, in 2004, for a large colour copier, to less than 45 seconds today, with first print output times, at an average of 20 seconds, are now being reduced to 6 seconds or less.
Olivetti goes a long way to ensuring their products conform to the stringent environmental directives in place. In particular, the long-life drums and developers in their copiers and printers, are highly reliable and productive this reduces service intervals, maintenance costs and user downtime. Low cost, high yield toner cartridges deliver more pages for less money and, when the toner runs out, all that needs replacing is the toner in an easy to replace cartridge, and not the drum, as these are now separate units.