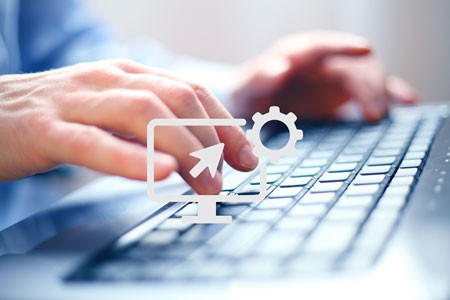 Benefits of moving to the cloud
Dated and expensive IT infrastructure? Not sure what to do about it? Consider moving to the cloud!
The world of IT can be intimidating, and specialists often speak in highly-technical jargon that leave you thinking it would be best to just keep things running as they are… even if they're not quite right.
Moving to the cloud can be daunting too. It can be difficult to wrap your head around the absence of a physical server. But migration to a virtual server has a huge number of benefits. These can be grouped into three business-critical issues:
Improve security by moving to the cloud
Moving to the cloud means less confusion in terms of security. Gone is the debate over whether the hosting company or your IT support are responsible for firewalls. Gone is the weak spot at the point of accessing the server, where bots lurk waiting for weak spots to be exposed. With a cloud server, you get a strong firewall and two-factor authentication via software such as JumpCloud. Basically, you get simple and robust IT security.
The cloud means a better user experience
A cloud system is less clunky. Particularly if your current set up involved users logging in to a remote desktop on a hosted server. Utilising cloud-based systems means that your team can work quicker, smoother and with less stress. There's also the extra benefit of working just as well at home, on the road, or at the office.
Lower costs by working in the cloud
This means across your entire system. Not just for the server itself:
Infrastructure – no costs to rent a physical space for your server offsite, no hosting costs, much lower back-up costs, VPN costs, etc. the potential for savings in the cost of running your IT infrastructure is huge.
Software – Microsoft licenses will not need to be bought via your server provider and will therefore be much cheaper. Using the cloud also means using cloud software, so the cost of running outdated legacy programmes will also be reduced.
Support – Simpler administration means less need for support. It also means less time when support is required, both of which brings your costs right down. With a virtual system no engineers need to come to site, which also negates call out charges.
Improved security and user experience and lower costs – it's a no-brainer! Find out more about EBM's IT support service.
Speak to EBM today to find out how else your business will benefit by moving to the cloud.