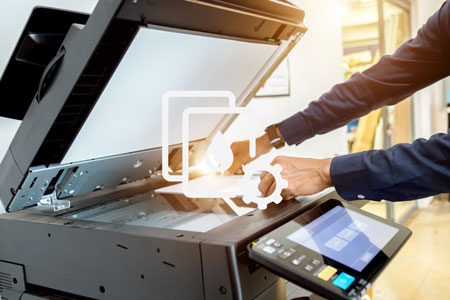 When running a business, a major concern is always how to best keep costs low but performance high. At times, it can become a headache trying keep track of all company expenditure and manually monitor price fluctuations. Thankfully, for print there is a solution available, and it comes in the form of tiered billing.
Tiered billing is an innovative way of cutting printing costs to your business by up to 50%. Rather than one hyperlink meaning you pay for a colour page, tiered billing means you just pay for what's used.
What's so good about tiered billing?
This ingenious three-tiered billing system is fully available on the UTAX range of colour multifunctional printers. This means that companies will never be overcharged for their printing usage. The cost is entirely dependent on the consumption, making it an easily manageable sum.
Your total colour usage is determined by calculating the exact number of coloured dots on each printed page. This gives a precise reading of how much colour has been used.
That number is updated to UTAX's three-tier system, with prices referring to a low, mid, or high colour usage. For example, a black and white document contains no coloured ink, a text document with coloured logo (or similar) would be low coverage. Medium colour coverage would include highlighted text or a coloured image. And high coverage is for things like brochures or printed internet pages.
Fixed Rates
Traditionally, printers have billed using a fixed rate for black and white copies, and another for colour copies. This rate is based on the industry standard (high colour coverage) although most business printing falling into low/medium categories. This means that companies end up spending far more on printing ink than they should, ought, or need to be.
By providing an intelligent three-tier system, UTAX offer billing that reflects their actual usage rather than the assumed usage of the masses.
Printing practice and cost becomes completely customised and transparent when customers can adjust their printing expenditure, without necessarily having to alter their company's behaviour. Without compromising on print quality, businesses are able reinvest their savings more efficiently, with the reduced use of toner benefiting both the budget and the environment.
If you're interested in finding out more about managed print services and tiered billing, or would like to know some more information about the range of UTAX multifunctional colour printers, don't hesitate to get in touch with one of our helpful advisors today!