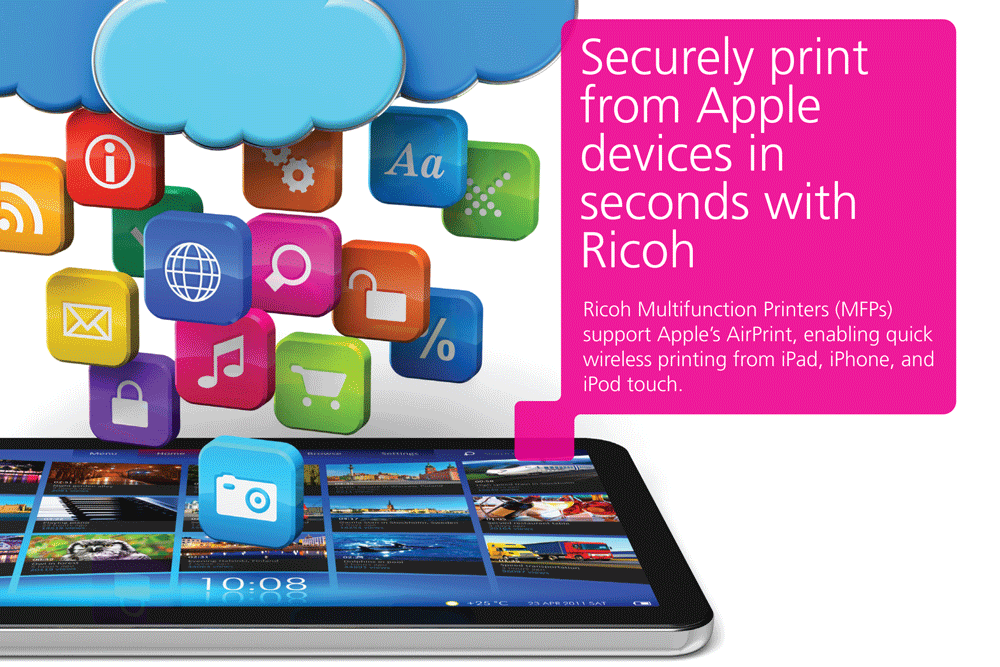 Securely print from Apple devices in seconds with Ricoh from an authorised reseller.
At EBM we are official resellers of Ricoh Multifunctional Devices.
Ricoh Multifunction Printers (MFPs) support Apple's AirPrint, enabling quick wireless printing from iPad, iPhone, and iPod touch.
AirPrint is the native printing function offered by Apple. This makes it possible for people to print documents, photographs, and images directly from an iPad, iPhone, or iPod touch without installing a printer driver or an application. But AirPrint needs compatible print devices.
Ricoh has a range of AirPrint-enabled devices – certification from Apple Inc – that can be ready in minutes to receive print jobs over a wireless network. With just a few simple taps, users can go from viewing something on-screen to holding a printed copy – essential for the increasing use of Apple devices in business and the advent of BYOD (Bring Your Own Device).
Benefits for users
Convenience of immediate access to a printer
Quick Wi-Fi connection between mobile device and printer
Print and share documents on demand
Benefits for IT and Support
No software to download, drivers to install or cables to connect
Low maintenance and speed of install
Happy end users
A value-add service for your business.
You can offer Airprint as a secure and chargeable service within your business or as a free facility for people visiting your organisation.
How does AirPrint work?
Once the Wi-Fi connection has been established, iPad, iPhone, and iPod touch users simply select the AirPrint-enabled printer, or Multifunction Printer (MFP), from the iOS Printer Options. AirPrint also enables Mac users – with OS X10.7 or later – to print to the device without the need to install the PostScript option. The Ricoh device will be found on the Wi-Fi network using Bonjour – without the need to install a driver or configure the printer settings.
To find out more, please call: 01376 512575 or email: info@ebmltd.co.uk