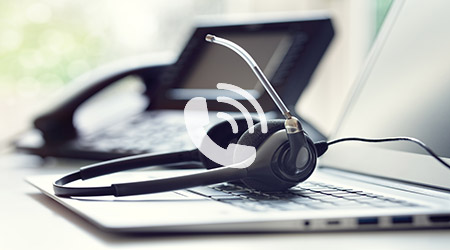 With more and more people working from home staying connected has become more important than ever. Video calls and cloud based work have become the new norm. Businesses have had to change and adapt quickly to keep up. VoIP has become a key part in helping businesses stay connected.
But what is VoIP? And how can it benefit your business?
VoIP stands for Voice Over Internet Protocol. This means that you get a telephone service that is hosted over the internet. As long as you have an internet connection you can stay connected to customers and colleagues alike.
Staying connected with VoIP is easy as its not hard wired in to a phone line. The simplest way to keep office functionality is to take your IP phone home with you. Unplugging an already configured phone and reconnecting it to your router at home, it will work as if you never left the office.
There is also an option to utilise a "soft phone" which is an app that connects to your mobile. It will act exactly the same as a regular handset and you can also connect different numbers to multiple phones. Used alongside your business telephone system, a soft phone can be a powerful tool that enables you to stay connected. All you need is a device with internet that has the application installed and you're ready to start working.
Not only is VoIP easy to set up anywhere you also get the added benefit of lower costs, increased scalability, clearer voice quality and improve efficiencies.
Get in touch
Taking out a telephony package with EBM means that your business benefits from:
A simple, reliable service for SMEs
Clear, great value pricing
No additional call costs – 1500 minutes included in the price
Stay connected
Excellent service from a dedicated team
Find out more about how EBM can help you save money whilst keeping your business connected. Call us now on 01376 512 575