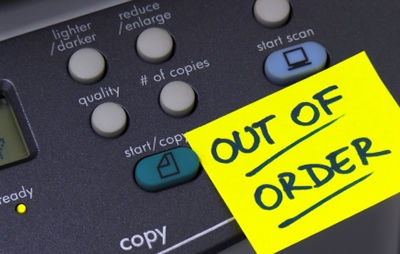 Servicing and repairs for printers and photocopiers in Essex is a service we regularly perform for our customers. This enables us to return a faulty machine to full working order and help keep your business running successfully without unnecessary delay.
The process is a simple one and begins by us sending a qualified and experienced engineer to visit your premises based on an enquiry you send through. This allows them to assess and test your faulty machine, giving you a detailed and comprehensive analysis of the problems and understanding whether the fault is mechanical or digital.
We offer all of our repairs at a fixed rate, meaning that as soon as we know what the problem is, you will know how much it will cost. The price will include the overall repair and the time taken to complete.
For many of our clients, an ongoing maintenance plan proves effective, keeping you safe in the knowledge that whatever issues your machine may face, an engineer is always on hand and available to get it up and running again.
Whatever the issue our engineers have been trained to deal with it quickly and effectively, offering either same day repair or 24 hour should there be a more detailed issue.
We perform some photocopier repairs more frequently than others, and last month alone had several clients take advantage of our dedicated maintenance plans. The faults we see most commonly are:
Paper Jamming. We were in Grays this month dealing with a recruitment firm who's paper kept jamming. After fixing we advised them to use good quality, fresh paper in future, rather than damp, second-hand materials, and always fan the paper before putting it back into the machines.
Black Lines. An Estate agent in Colchester was having issues with black lines whilst copying through a document feeder. If the issues are not on the glass, you are more than likely to have dirty slit glass causing problems. This was the case, and we advised to keep this clean in future.
Toner Replacement. In Romford this month we had an office client whose printer was struggling, despite having had its toner replaced. The problem was replacing the toner too early. The machine had a jam, so by replacing the toner it caused further confusion within the system.
Paper Size. A long-term Ilford client was finding that their printer was creating documents too big for the page. You must make sure that you always check word and excel documents for paper size, so that the correct size is selected. This prevents mismatches and guarantees correct sizing on the page.
Damage. We had to be stern with a Basildon car dealer this month. Never poke a sharp object like scissors into the machine to remove a jam as untold damage can be caused, and it's dangerous too. Needless to say, they won't be doing this again.