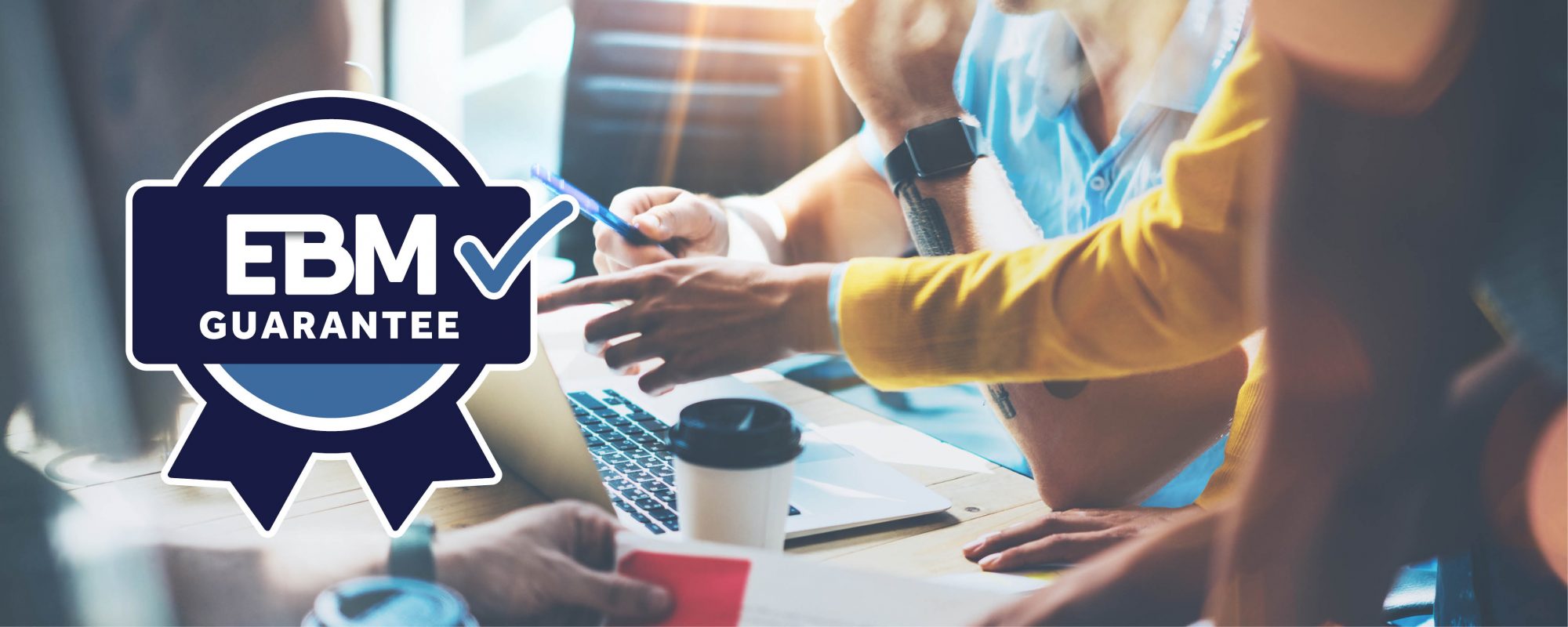 The EBM Guarantee
How productive is your business without print?
Often overlooked, printers and photocopiers are a vital part the modern office. So what happens when something goes wrong? You call in an engineer to fix it, of course. But how can you be sure they are reliable and that they know what they're doing?
Fully trained and accredited, EBM's friendly engineers work on devices by a range of market-leading manufacturers. Operating across Cambridgeshire, Essex, Hertfordshire, Kent, London and Suffolk we are confident in our excellent customer service. So confident, in fact, that every Service Level Agreement (SLA) is guaranteed to be met, or your money back. This is the EBM Guarantee.
We're an SME ourselves, so we understand how vital it is for your office to run efficiently. In particular, if all your staff are reliant on one device its crucial to keep downtime to a minimum. From the beginning, EBM has had a simple ethos – putting customer service at its core. If your printer fails, our engineers can help regardless of whether your printers are supported by EBM. We offer a free 30-minute visit to take an initial look at problem printers/photocopiers. After that, you'll benefit from a clear explanation and simple pricing structure.
Clear and straightforward
EBM is passionate about providing excellent service. In addition to the EBM Guarantee, we pledge to:
Find the right printer for your business. EBM will never over-spec. your printer/photocopier, so you won't end up paying for functions you don't use. We're an independent reseller of print devices, so we're not tied to any particular brand and have the freedom to source you exactly what you need.
Offer fixed, straightforward contracts with no hidden charges. We do not include annual price rises in our gold or platinum contracts. Nor do we charge extra for delivery, network connections, scanning, copying, service visits, toner delivery, etc. EBM covers everything in one clear monthly cost.
Make sure you can get the help you need. With specialist technicians at the end of the phone, or available to come to site in business hours, EBM help you minimise downtime. Our maintenance contracts are always the same duration as our leases, meaning EBM keep you covered for repairs/services.
At EBM, we want your printers to work at their best. Previous posts on this blog have given advice on reducing your print spend and looking after your device.  These simple tips will help you maximise up time and keep your business operational.
Why EBM?
Dedicated to providing a great service, the team at EBM Managed Services really stand out. Here's how:
A great reputation. Everyone says it, but we mean it. Check out our Google Reviews to see what our clients have to say.
No high pressure sales. We don't believe in it. Our business is to help yours grow – a quick sale won't benefit anyone in the long-term. We consult with you to understand your business needs, and we offer you a range of solutions that are both cost-effective and have room to support business growth.
A friendly team. We're a family-run firm and all our staff are employed directly. Every staff member represents a firm that we care about and enjoy being a part of, so you'll find everyone friendly, honest and reliable.
To find out more, or to book a free print audit, get in touch on 01376 512 575, at info@ebmltd.co.uk or via the Live Chat service on our website, www.ebmltd.co.uk.