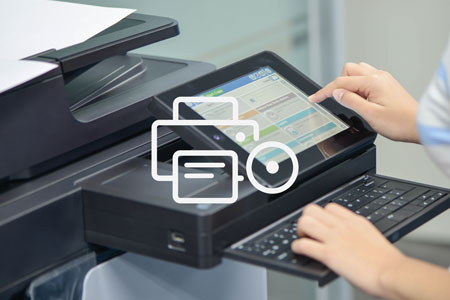 Since the introduction of GDPR in 2018, information security has been in the spotlight more than ever before. It's become a top priority as companies grapple to achieve compliance. Despite the regulations having been in force for well over a year, many UK SMEs are still working on it.
How can print software help?
Risks associated with other IT infrastructure often overshadow those associated with print devices, but there are some very real risks in leaving print devices unprotected.
Data leaks. Uncollected print jobs including confidential information can easily fall into the wrong hands.
Hacker attacks. Print devices are connected to the rest of the IT network and therefore represent a back door for hackers.
Viruses. Similarly, as part of the IT network unprotected print devices represent a way in for viruses.
Print software provided by a reputable manage print provider addresses these risks. Print software also improves IT compliance, allows monitoring and reporting, and eliminates waste.
Data Security
Protect client confidentiality and sensitive financial or HR data with software solutions such as "follow-me" printing, which only releases a print job when it's author physically arrives at the printer. In addition, if the author does not appear within a set amount of time, the software removes the job from the print queue, eliminating the risk of secure data being left lying around.
Network Security
Sure up IT security with software solutions that protect print devices, and as a result close the "back door" to hackers and viruses.
Control
Understand and control how your business prints. Monitoring, reporting and control tools implement rules that reinforce business print policies and reduce waste (e.g. black and white printing by default, double-sided printing by default). Run reports to highlight and reduce wasteful or inefficient printing.
Installing print software with EBM
Would your business benefit from using print software? Get in touch! At EBM we're proud of our excellent customer service – check out some of our Google Reviews. We currently score 4.8/5 and always strive for better.
But we're about more than that. Here are just some of the ways that EBM stand out.
Carbon Neutral Printing
Looking at ways to mitigate your impact on the environment? EBM provide carbon neutral printing via our Green Print Programme.
The EBM Guarantee
EBM's managed print clients benefit from the EBM Guarantee – we will meet the call out time in your SLA – or your money back.
Collaborative Approach
No high-pressure sales. EBM will give you the information you need to make a decision and trust you to make it. Our business is to help yours grow.
To find out more, get in touch on 01376 512575, at info@ebmltd.co.uk or via the Live Chat service on our website, www.ebmltd.co.uk.