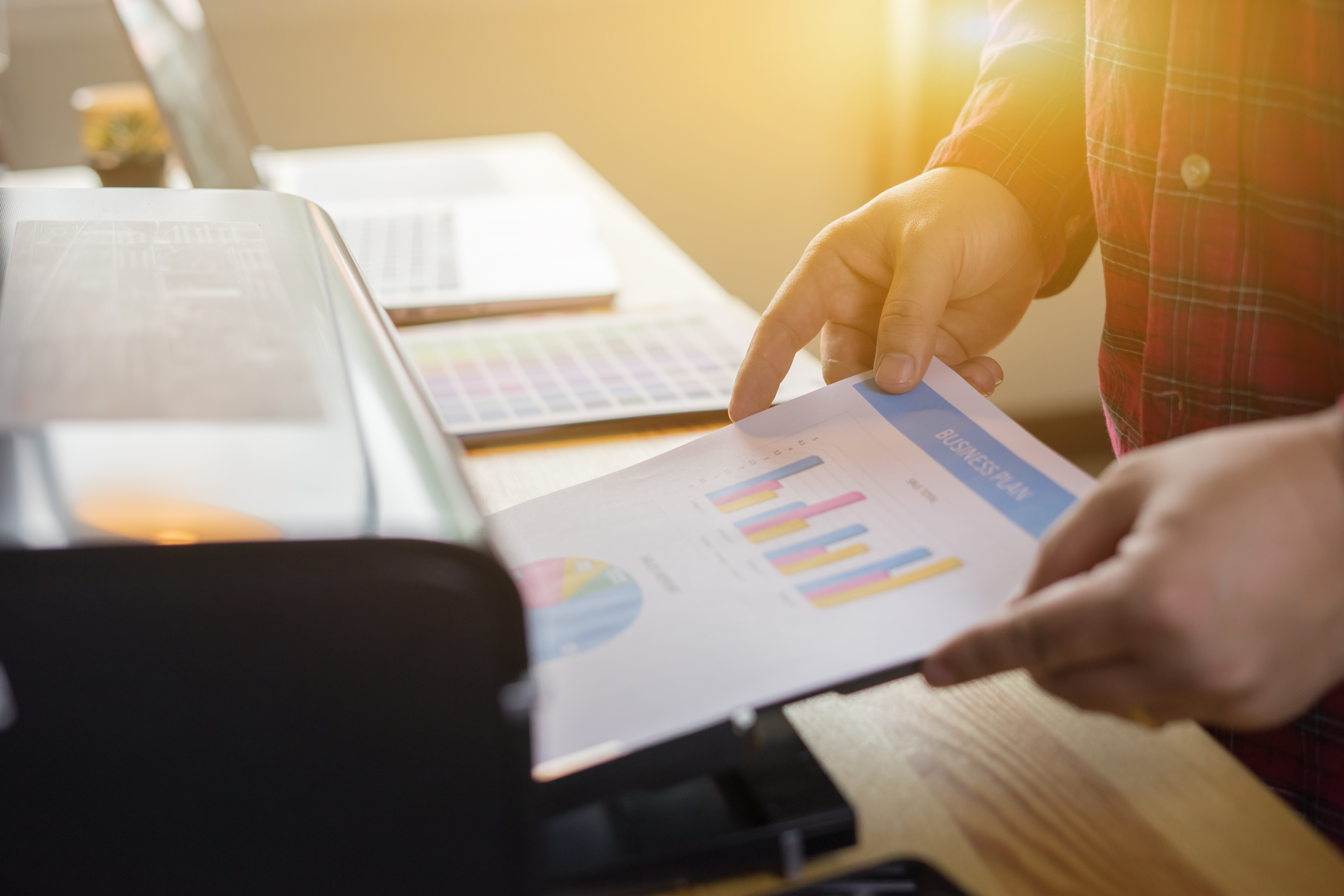 Managed print is often described as "everything but the paper", and it rings true. A typical agreement will cover: leasing the printer/photocopier, software, toner/ink and other consumables, regular servicing and emergency engineers.
Managed print contracts provide stability, security and value for money for your business. Specifically, the chief benefits include:
The right print solution for your business needs. Get printers/photocopiers matched to the output your business creates: desktop printer or photocopier? Colour or black and white? A4 or A3? A managed print contract will look at this and more, including finishing options and print software.
Software that supports your business. Boost efficiency, encourage flexibility and improve access by using cloud software to print documents across a range of devices. Improve system security and comply with data security regulations (e.g. GDPR) with a range of access methods.
Tech upgrades. When you purchase a printer outright, it dates. Keep your business up-to-date with the latest print technology by upgrading at the start of each new lease term.
Extra support at no added cost. Automated ink/toner delivery, regular servicing and emergency engineers all included as part of the regular monthly cost.
Some of the chief benefits of managed print contact cover all-round cost efficiency and general value for money:
Save time and money! Take the leap from looking after your own printers. A managed print programme allows you to devote your time to managing your business and allows you to monitor print spend. An initial print audit can also help identify where (and how much) you could save.
Balance the books. Focus on using your cash capital to grow your business. The stable regular payments in a managed print contract mean no large capital outlay for either printer/photocopier purchase or repair.
Boost tax efficiency. Managed print contracts are 100% allowable against pre-tax profits.
Protect your cash capital. Preserve your existing credit lines. Funding from a leasing provider will not affect the amount you can borrow from your bank.
With cost savings, predictable billing and a range of day-to-day business benefits, managed print is usually the right choice for growing businesses.
Managed print with EBM Managed Services
Thinking about taking out a managed print contract? Get in touch! At EBM, we pride ourselves on our excellent customer service – but anyone can say that, so just Google us and take a look at some of our 5* reviews.
The team at EBM Managed Services is dedicated to providing a great service. Here are just some of the ways we stand out:
A free print audit. EBM can visit your business to undertake a free, no obligation print audit. This takes a look at how much your business is currently printing and helps us work out where we can save you money.
No high-pressure sales. We don't believe in it. Our business is to help yours grow – a quick sale won't benefit anyone in the long term. Our consultants talk with you to understand your business needs, and we offer you a range of solutions that are both cost-effective and have room to support business growth.
A range of lease options with fixed prices for the duration. Three, four or five-year lease options allow you to make the right choice for your business. EBM always include support contracts that cover the duration of your lease, as well as fixing your monthly cost throughout – so no nasty surprises.
The EBM Guarantee. When something goes wrong you need action, not promises. At EBM we commit to that premise. We guarantee to meet the call out time in your SLA – or your money back.
To find out more, get in touch on 01376 512575, at info@ebmltd.co.uk or via the Live Chat service on our website, www.ebmltd.co.uk.