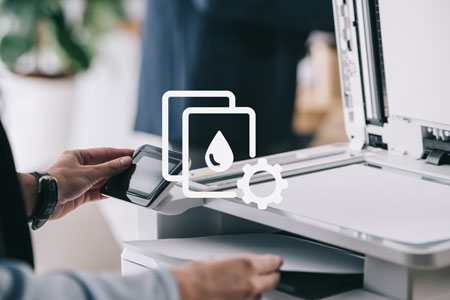 Printers and photocopiers are vital business assets. Managed print contracts make sure they are working at their best.
A managed print contract supplies software, consumables, servicing and emergency call out engineers for a regular monthly fee. Leasing a device and combining it with managed print tends to be more cost-effective than outright purchase of a printer/photocopier, given that the software and technology will be updated regularly, and considering everything else that's included:
The device – Print hardware (printer or photocopier) that meets the needs of your business, from trusted market-leading brands. Assuming you renew your contract at the end of the term, the print technology in your business will be upgraded at the start of each term.
Software – Managed print provides software to suit your workload. Multiple users each printing confidential data? Staff working remotely? Want to monitor print spend? There are solutions for these issues, and more.
Consumables – No more spare ink/toner or parts sitting on your shelves, costing money without being useful. Managed print contracts cover everything: fresh ink/toner delivered automatically, parts replaced during servicing, and parts needed during emergency call outs.
Servicing and support – Keep your device running smoothly with regular check-ups and account management. Managed print provides support phone lines to help and advise, to book engineers or to help with anything else that comes up.
Emergency engineers – Sometimes, the worst does happen and your printer may go offline. With a managed print contract the situation is much less stressful. Once reported, an engineer will be on their way to repair your printer/photocopier ASAP.
The often-used industry phrase "Everything but the paper" describes managed print, and it's about right. Under a managed print contract you will have the technology your business needs alongside the necessary support and aftercare to make it the right choice for most organisations.
Managed print with EBM Managed Services
Thinking about taking out a managed print contract? Get in touch! At EBM, we pride ourselves on our excellent customer service – but anyone can say that, so just Google us and take a look at some of our 5* reviews.
The team at EBM Managed Services is dedicated to providing a great service. Here are just some of the ways we stand out:
No high pressure sales. We don't believe in it. Our business is to help yours grow – a quick sale won't benefit anyone in the long term. Out consultants talk with you to understand your business needs, then offer a range of solutions that are both cost-effective and have room to support business growth.
A friendly team. We're a family-run firm and employ all our staff directly. Every member of staff represents a firm we care about and enjoy being a part of, so you'll find everyone friendly, honest and reliable.
The EBM Guarantee. When something goes wrong you need action, not promises. At EBM we commit to that premise. We guarantee to meet the call out time in your SLA – or your money back.
To find out more, get in touch on 01376 512575, at info@ebmltd.co.uk or via the Live Chat service on our website, www.ebmltd.co.uk.