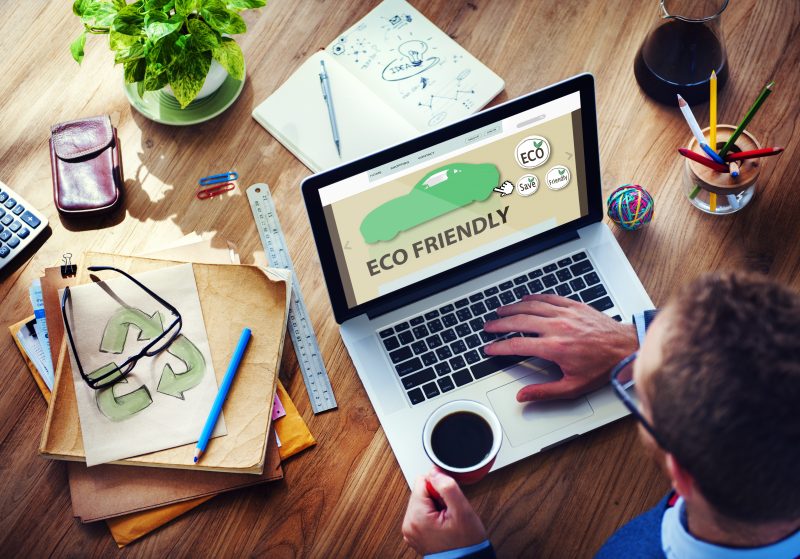 As life in the UK begins to look something a bit like "normal", many of us are shifting from business-survival mode into future-planning mode. Is your business looking to prioritise being a greener business as we move into 2022?
At EBM, we're working to reduce our CO2 emissions, and offset what can't be reduced. As a result, we've been working as a carbon neutral business since 2018.
Small steps
It's not all grand, sweeping gestures. It's been said that we don't need a few people doing everything right, we need everyone doing a few things right.
So, what can you do to be a greener business?
Below, you'll find some simple steps to help reduce your business and personal carbon footprint. Why not share with your team and see what a difference you can make together?
Go Digital
An odd thing for a managed print business to say, perhaps. But the fact remains that the more you do online, the less paper you need. EBM can help implement print policies that help cut down the total number of printed pages, and our IT team can provide you with everything you need to work digitally.
Switch lights off
Simple. Switch lights off when you leave a room, or (even better) make use of natural light. In the office, install sensors that turn lights off automatically.
Switch computers off
Switching off, rather than simply leaving computers in standby saves a LOT of energy. You'd be surprised. Be a greener business. It's a simple policy to implement in your office, and an effective one if you're looking to be greener.  
Reuse
Get the full use out of your items before they go in the recycling. Recycling items still requires energy. Instead, reusing means that is unnecessary. For example, print on the reverse of scrap paper, or refill single use bottles.
Recycle
Recycling takes more energy than reusing, but it is still a more positive move than simply throwing items into landfill. There are a range of recycle schemes available, from paper to office equipment. Make sure you recycle what you can.  
BYO
Bringing lunches to work in reusable containers is probably the greenest (and healthiest) way to eat at work. Buying lunches everyday almost inevitably ends up with a miniature mountain of packaging waste and is way more expensive than making your own too!
Share
Pool supplies that aren't used regularly. Not everyone in the office needs their own hole punch, scissors, or even printer. Manufacturing uses energy, buying less means less energy spent. Simple.
Stay put
Greener businesses avoid unnecessary travel. If the past year has shown us anything, it's that businesses can run on Teams. Face-to-face is not always necessary. Try virtual meeting where there's a long distance to cover. No commute saves both time and the environment.  Where you do need to travel, consider public transport, walking or cycling (e.g. for your commute).
Did you know…?
EBM provide carbon neutral business printing through our Green Print Programme. In addition, we help businesses implement policies that reduce the number of pages printed. Our IT and Telecoms teams help businesses go digital and reduce their impact on the environment.
Curious? Get in touch to find out more.