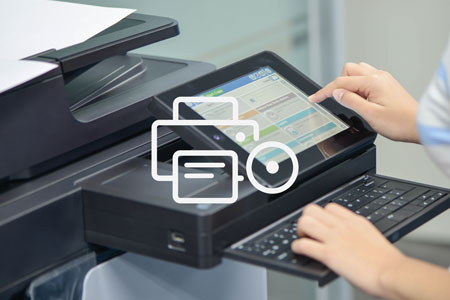 Getting to grips with print costs?
Printers are such a standard piece of office hardware that they're often ignored. But they do take money to run. Ink/toners alone can stretch into thousands of pounds over a year. Using print software can help save money.
According to this article, 64% of SMEs can't track printer usage costs. A print assessment can accurately work out how much your business spends on printing. But what next? In many businesses, hard copy printing is still a necessity.
Many suppliers now offer sophisticated software to track and manage print output. As a result, there are three big advantages to using print software, all of which contribute to significant cost savings:
Track all activity
Real-time reporting addresses all areas of print/copy/fax/scan management, ranging from detailed page logs to summaries by user, department, device or environmental impact. In other words, print software shows you where you can reasonably cut back.
Cut waste
Encourage responsible printing by implementing quotas and print policies through intelligent software. For example, make sure your devices print mono by default and/or double-sided by default – thereby reducing ink/toner and paper costs. Or route larger jobs to high-speed printers, or automatically delete jobs with incorrect paper sizes, or reroute jobs if a print is offline. You can also delete unwanted jobs before they print. There are lots of options that can be tailored to meet your business needs.
Improve security
Reduce risk. Protect confidential documents and reduce unclaimed print. Follow-me and secure release printing ensures users release print jobs at the device, and (for confidential documents) only upon authentication.
Print software programmes also support small businesses by maximising uptimes and making print administration easier, meaning you save both time and money.
Installing print software with EBM
Would your benefit from installing print software? Get in touch! At EBM we're proud of our excellent customer service – check out some of our Google Reviews. We currently score 4.8/5 and always strive for better.
But we're about more than that. Here are just some of the ways that EBM stand out.
Carbon Neutral Printing
Looking at ways to mitigate your impact on the environment? EBM provide carbon neutral printing via our Green Print Programme.
The EBM Guarantee
EBM's managed print clients benefit from the EBM Guarantee – we will meet the call out time in your SLA – or your money back. The EBM Guarantee has now been in place for over a year, and we have not yet needed to refund anyone.
Collaborate Approach
No high-pressure sales. EBM will give you the information you need to make a decision and trust you to make it. Our business is to help yours grow.
To find out more, get in touch on 01376 512575, at info@ebmltd.co.uk or via the Live Chat service on our website, www.ebmltd.co.uk.